Tuesday, February 25, 2014 How Thrively Wants To Help Your Child Reach Their Full Potential
Story by Benjamin F. Kuo
Jon Kraft--a serial entrepreneur, who was one of the founders of music service Pandora, and has served at Idealab, UberMedia, Big Stage, and a number of other startups here, has a new mission: helping children find their full potential, by connecting them with activities that match up with their personality and passions, through his new startup, Thrively (www.thrively.com). Kraft, who co-founded Thrively with fellow startup veteran Girish Venkat, sat down to talk to us about Thrively, as it emerges out of beta.
Tell me about your new company?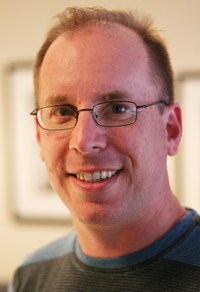 Jon Kraft: Our mission is to help kids discover and pursue their passions in life. We do this through strength-based principles around learning. We've spent the past year and a half working with two of California's seven board-certified pediatric Neuropsychologists to develop a strength assessment test, which allows us to build a strength profile for each kid online. Once we get that strength profile, we match them to a whole world of extracurricular and educational opportunities suited to their strengths. We also take the same strength taxonomy used to develop the profiles and apply them to describing all of the extracurricular and educational opportunities that we curate.
Where'd the idea for the company come from?
Jon Kraft: This is a vision that Girish and for several years. He actually had pitched me on this several years ago, when I was in a middle of another project. I actually convinced Girish to help me with that other project, and worked together. However, the pull of this new idea became too strong, so we set out to start the company.
What's the ultimate goal of Thrively?
Jon Kraft: We have multiple goals. First, we find that lots of kids these days are overscheduled, and not only that, they're overscheduled into a lot of the same kinds of activities. If you poll any number of parents, all too often their kids are doing piano, probably playing soccer or maybe in gymnastics, possibly baseball. There are only a hand full of activities every kid does, and it just fills up their schedule. It's amazing how many different opportunities are actually out there today, if you just look for them. One of our goals, is to help kids understand their unique strengths, and find things that they really can be passionate about. There's lots of research out there which shows that when kids can really find a passion they can get behind and which they can pursue with all their energy, it transforms the experience of childhood and relieves a lot of the challenges that come with childhood.
What age is the service designed for?
Jon Kraft: The real core ages are from eight to thirteen. But, we have kids who start as early as six or seven, and the whole strength profile is absolutely relevant through high school. Ten to twelve, however, is a really terrific age, because that's when you're about to get into middle school, and you're figuring out what things are important to you.
For those who aren't familiar with your background, could you briefly talk about your team's prior experience?
Jon Kraft: Girish and I have known each other for a long time. I was the founding CEO of Pandora, and Girish was originally the chief architect at Stamps.com. We've known each other for a long time. We met each other when he was building CoreObjects, which he built to 500 people worldwide. He had approached me with this idea when I had just joined Bill Gross at Idealab and was starting Ubermedia. I was only months into it, and it happened we needed a CTO at the time. Girish pitched me on the idea for Thrively, and I loved the idea. However, I couldn't abandon what we were working on at UberMedia, so I recruited Girish to help me build that company. I was there for three years, and Girish for a little under that.
Having been part of Idealab for awhile, anything you learned in particular from that experience?
Jon Kraft: One of the things we're doing, is a lot of testing, early--not just the product, but testing the market. That's one thing that Bill Gross does really well. He does a ton of iterative testing, approaches to marketing, to find the kinds of deals that work. We're really taking that to heart with Thrively, going out and exploring a range of different kinds of business relationships, marketing approaches, customer acquisition techniques, which we're really excited about.
What's the funding status of your company--how are you funded?
Jon Kraft: We raised an angel round of financing back in July of 2013, and we're still working against that round. We'll probably go out for a Series A financing by the end of the year.
Finally, what's your next big goal?
Jon Kraft: We just launched our public beta, and essentially what we're doing now is lots of testing of different customer acquisition channels. We're learning about what moms and dads really want to see in terms of day-to-day engagement on our platform. Our goal, which we want to get to by summer, is get hundreds of thousands of users on our platform, and actively engaged. One of our big goals from the beginning has been to get to 100,000 activities, and get to real critical mass on our platform. We're working hard on hitting that goals, and also working toward critical mass of coverage in the major, metropolitan regions across the country. No matter where you are, not only will we give your kid a really compelling strength profile and recommend activities available to them online, we also will be recommending hyper-local activities down the block--and we'll do that all over the country. We're already at critical mass in 12 major metropolitan regions of the country, and our thousands of online and national opportunities are relevant to everyone in our core age demographic nationwide.
Thanks!
---